Comedy Showhouse Festival
Sunday 31st January | Sunday 7th February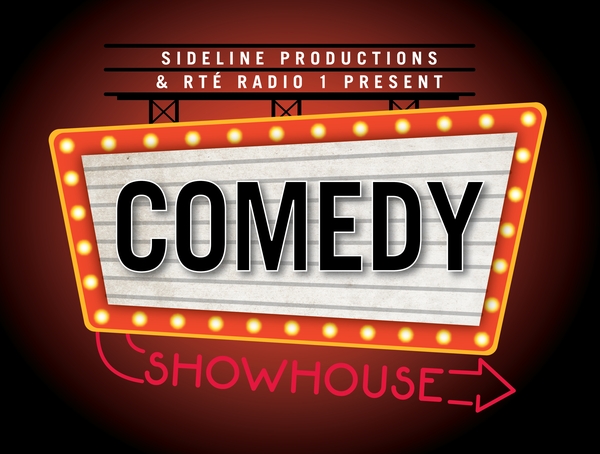 (Click image for link)
The first of its kind, Comedy Showhouse is a new festival of Irish comedy, featuring Sean Hughes; Deirdre O'Kane; Andrew Maxwell; Al Porter; Colm O'Regan; Fred Cooke; Amy Huberman; John Colleary; Foil, Arms & Hog; and many more.
Join us in the Space Upstairs for 8 days of live comedy recordings, which will be broadcast on RTÉ Radio 1 across 2016.
Meanwhile, downstairs in the Cube, meet the new stars of digital comedy or take part in workshops and live podcasts.
UCC Tradfest
Wednesday 3rd February | Sunday 7th February
(Click image for link)
We will be opening TradFest on Wednesday February 3rd with our Lunchtime Concert (musicians yet to be revealed) followed by 'Trad at the Rock' in The Rock Bar that night. On Thursday there will be sessions and of course our annual O'Riada Memorial Lecture. On Friday we will have the free TradFest 'fuaim' concert in the Aula Maxima before the composition competition, followed by Battle of the Trad Bands that night in the City. On Saturday we will have a session trail in the city before the headline act (yet to be revealed) in the Imperial Hotel followed by a trad disco. On Sunday there will be the annual trad mass in the Honan Chapel followed by our closing session in The Rock Bar.
Éigse na Brídeoige
Thursday 4th February | Sunday 7th February
(Click image for link)
Éigse na Brídeoige is a cultural festival which takes place every year during the first weekend in February. The events are spread over various centres in the Gaeltacht areas of Iveragh in South Kerry. Each year a different theme celebrates and investigates some aspect of the rich social and cultural heritage of the area. The theme can be a person, a place, an organisation or any other aspect of that heritage. Lectures, seminars and field trips explore various aspects of the theme. The weekend also includes music, song, and poetry in both concerts and informal sessions. The timing of the Éigse is intended as a celebration of the Brídeog /Biddy tradition celebrating Saint Bridget's day, which is also a celebration of the coming of spring, regeneration and growth.
Annual Jazz Weekend
Friday 5th February | Sunday 7th February
(Click image for link)
Alltech Craft Brews and Food Fair
Friday 5th February | Sunday 7th February
(Click image for link)
Alltech Craft Brews and Food Fair, Ireland's largest craft beer festival takes place in The Convention Centre Dublin filled with craft brews, live music, RBS Six Nations rugby, artisan food and the world's largest craft beer tasting.
Galway International Rally
Saturday 6th February | Sunday 7th February
(Click image for link)
Dublin Chinese New Year Festival
Saturday 6th February | Sunday 21st February
(Click image for link)
The ninth year of this vibrant festival will be bigger than ever and will run from the 6th to the 21st of February. The Dublin Chinese New Year Festival programme is a showcase of the very best of Chinese culture in Dublin with some performers even flying all the way from China to give Dubliners a real of taste of Chinese traditions. From carnivals to cooking and singing to storytelling the programme will highlight the diverse spectrum of Chinese culture in Dublin over a packed two week schedule.
Cork International Poetry Festival
Smock Allies: Scene and Heard – Festival of New Works
Wednesday 17th February | Saturday 5th March
(Click image for link)
Smock Allies : Scene + Heard is a festival of new work across MUSIC – DANCE – THEATRE – COMEDY + SPOKEN WORD arts genres. It provides a chance for artists to test an excerpt of previously unseen work or new ideas / formats in front of a live audience in order to get feedback before mounting and staging full length productions. We believe in breaking down barriers to showcase work that is accessible to all, across a variety of disciplines. Our team has gathered years of collective experience producing festivals, theatre, tv + film, design, architecture, photography, music, marketing, comedy and dance as well as the technical expertise which we want to share with Artists to help their work find its way.
Bray Comedy Festival
Wednesday 24th February | Sunday 28th February
(Click image for link)
Hardy Har Comedy Club and The Harbour Bar presents the Bray Comedy Festival 2016. Delighted with the success of last year's Bray Mini Comedy Festival we bring you another load of laughs in our bigger and better Bray Comedy Festival 2016. We're delighted to be expanding this year to include the iconic Bray Head Hotel as an additional Bray Comedy Festival venue. 140 years old, some part of this building has featured in every Irish film ever made*. Here's your chance to go back in time and experience The Big Gig in the surrounds of Ireland's most famous hotel. Brighton finally meets Bray when Seann Walsh is joined by Eric Lalor (Fair City), Joanne McNally (Republic of Telly) and Adam Burke (Hardy Har) on our purpose built comedy stage in the Bray Head Hotel Ballroom. You're gonna love it!
Dublin International Film Festival
Thursday 18th February | Sunday 28th February
(Click image for link)
The Dublin International Film Festival (DIFF) has fast become Ireland's premier feature film festival and takes place in Ireland's capital city over the course of eleven days and nights each Spring. The next edition of the festival will take place 18th-28th February 2016.
DIFF continues its commitment to celebrating film as an art form by presenting the highest standard of international cinema to the Irish Audience. The festival is a citywide event that takes place in all of the Dublin City Centre Cinemas including Cineworld, The Savoy, Irish Film Institute and Light House Cinema in Smithfield. The majority of films shown at the film festival are Irish premieres, and for some of the films shown, the festival represents the only public screening that will take place in Ireland.
Dine in Dublin
Saturday 20th February | Sunday 28th February
(Click image for link)
Foodies mark your calendars as Dublin's favourite food festival, Dine in Dublin, returns in February for the eighth year running. Taking place from Monday, 22nd February to Sunday, 28th February, the capital will come alive with a feast of culinary delights. Brought to you by DublinTown, Dine in Dublin sees the biggest names in the Dublin foodie scene offer an unparalleled dining experience over the course of seven days. Over 50 of Dublin's most famed restaurants will participate in Dine in Dublin, offering the very best of fresh local produce, cooked to perfection and served up in style. The 2016 line-up includes Dublin hot spots Pichet, San Lorenzo's, Saba, The Church, Fallon & Byrne, Zaragoza, Red Torch Ginger, Le Bon Crubeen and Flanagans to name but a few. What's not to love…quality festival promotions available from some the city's most loved eateries?
Tedfest
Corofin Trad Fest
Monday 29th February | Sunday 6th March
(Click image for link)
The Corofin Traditional Festival 2016 will take place from February 29th to March 6th…. plenty of pub sessions, craic, and music.
Five Lamps Arts Festival
Monday 29th February | Wednesday 16th March
(Click image for link)
The Five Lamps Arts Festival is a creative encounter at the heart of an inner-city community. It takes place every spring in Dublin, Ireland's capital city. The mission of the festival is to promote community development and social inclusion through the arts and to showcase the uniqueness of this geographic area to residents and to visitors. The geographic location of the Festival centres around the 'Five Lamps' – a decorated lamp post with five lanterns dating from around 1880. The Five Lamps stand on an island at the junction of Portland Row, North Strand Road, Seville Place, Amiens Street and Killarney Street in Dublin's north inner-city. Through the traditions and ambience of this historic location and community the Five Lamps Arts Festival celebrate all that is good about art, artists, performers and community. We are proud to include in our programme anyone with a story to tell and a venue willing to host them.