Leave with lasting memories of your time on the Emerald Isle
January 2020
February
Comedy Showhouse Festival
Sunday 31st January | Sunday 7th February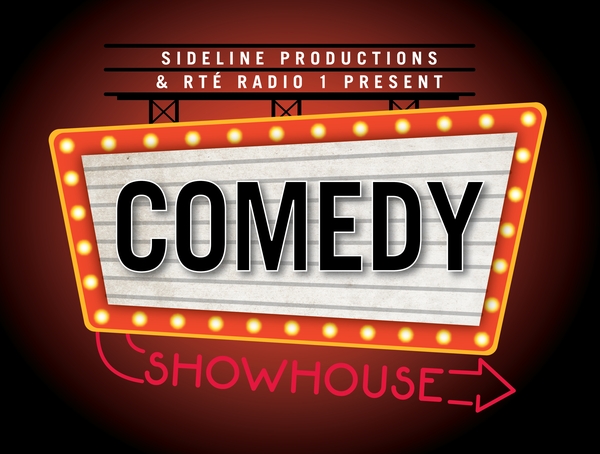 The first of its kind, Comedy Showhouse is a new festival of Irish comedy, featuring Sean Hughes; Deirdre O'Kane; Andrew Maxwell; Al Porter; Colm O'Regan; Fred Cooke; Amy Huberman; John Colleary; Foil, Arms & Hog; and many more.
Join us in the Space Upstairs for 8 days of live comedy recordings, which will be broadcast on RTÉ Radio 1 across 2016.
Meanwhile, downstairs in the Cube, meet the new stars of digital comedy or take part in workshops and live podcasts.
UCC Tradfest
Wednesday 3rd February | Sunday 7th February
We will be opening TradFest on Wednesday February 3rd with our Lunchtime Concert (musicians yet to be revealed) followed by 'Trad at the Rock' in The Rock Bar that night. On Thursday there will be sessions and of course our annual O'Riada Memorial Lecture. On Friday we will have the free TradFest 'fuaim' concert in the Aula Maxima before the composition competition, followed by Battle of the Trad Bands that night in the City. On Saturday we will have a session trail in the city before the headline act (yet to be revealed) in the Imperial Hotel followed by a trad disco. On Sunday there will be the annual trad mass in the Honan Chapel followed by our closing session in The Rock Bar.
Éigse na Brídeoige
Thursday 4th February | Sunday 7th February
Éigse na Brídeoige is a cultural festival which takes place every year during the first weekend in February. The events are spread over various centres in the Gaeltacht areas of Iveragh in South Kerry. Each year a different theme celebrates and investigates some aspect of the rich social and cultural heritage of the area. The theme can be a person, a place, an organisation or any other aspect of that heritage. Lectures, seminars and field trips explore various aspects of the theme. The weekend also includes music, song, and poetry in both concerts and informal sessions. The timing of the Éigse is intended as a celebration of the Brídeog /Biddy tradition celebrating Saint Bridget's day, which is also a celebration of the coming of spring, regeneration and growth.
Annual Jazz Weekend
Friday 5th February | Sunday 7th February
Alltech Craft Brews and Food Fair
Friday 5th February | Sunday 7th February
Alltech Craft Brews and Food Fair, Ireland's largest craft beer festival takes place in The Convention Centre Dublin filled with craft brews, live music, RBS Six Nations rugby, artisan food and the world's largest craft beer tasting.
Dublin Chinese New Year Festival
Saturday 6th February | Sunday 21st February
The ninth year of this vibrant festival will be bigger than ever and will run from the 6th to the 21st of February. The Dublin Chinese New Year Festival programme is a showcase of the very best of Chinese culture in Dublin with some performers even flying all the way from China to give Dubliners a real of taste of Chinese traditions. From carnivals to cooking and singing to storytelling the programme will highlight the diverse spectrum of Chinese culture in Dublin over a packed two week schedule.
Cork International Poetry Festival
Smock Allies: Scene and Heard – Festival of New Works
Wednesday 17th February | Saturday 5th March
Smock Allies : Scene + Heard is a festival of new work across MUSIC – DANCE – THEATRE – COMEDY + SPOKEN WORD arts genres. It provides a chance for artists to test an excerpt of previously unseen work or new ideas / formats in front of a live audience in order to get feedback before mounting and staging full length productions. We believe in breaking down barriers to showcase work that is accessible to all, across a variety of disciplines. Our team has gathered years of collective experience producing festivals, theatre, tv + film, design, architecture, photography, music, marketing, comedy and dance as well as the technical expertise which we want to share with Artists to help their work find its way.
Bray Comedy Festival
Wednesday 24th February | Sunday 28th February
Hardy Har Comedy Club and The Harbour Bar presents the Bray Comedy Festival 2016. Delighted with the success of last year's Bray Mini Comedy Festival we bring you another load of laughs in our bigger and better Bray Comedy Festival 2016. We're delighted to be expanding this year to include the iconic Bray Head Hotel as an additional Bray Comedy Festival venue. 140 years old, some part of this building has featured in every Irish film ever made*. Here's your chance to go back in time and experience The Big Gig in the surrounds of Ireland's most famous hotel. Brighton finally meets Bray when Seann Walsh is joined by Eric Lalor (Fair City), Joanne McNally (Republic of Telly) and Adam Burke (Hardy Har) on our purpose built comedy stage in the Bray Head Hotel Ballroom. You're gonna love it!
Dublin International Film Festival
Thursday 18th February | Sunday 28th February
The Dublin International Film Festival (DIFF) has fast become Ireland's premier feature film festival and takes place in Ireland's capital city over the course of eleven days and nights each Spring. The next edition of the festival will take place 18th-28th February 2016.
DIFF continues its commitment to celebrating film as an art form by presenting the highest standard of international cinema to the Irish Audience. The festival is a citywide event that takes place in all of the Dublin City Centre Cinemas including Cineworld, The Savoy, Irish Film Institute and Light House Cinema in Smithfield. The majority of films shown at the film festival are Irish premieres, and for some of the films shown, the festival represents the only public screening that will take place in Ireland.
Dine in Dublin
Saturday 20th February | Sunday 28th February
Foodies mark your calendars as Dublin's favourite food festival, Dine in Dublin, returns in February for the eighth year running. Taking place from Monday, 22nd February to Sunday, 28th February, the capital will come alive with a feast of culinary delights. Brought to you by DublinTown, Dine in Dublin sees the biggest names in the Dublin foodie scene offer an unparalleled dining experience over the course of seven days. Over 50 of Dublin's most famed restaurants will participate in Dine in Dublin, offering the very best of fresh local produce, cooked to perfection and served up in style. The 2016 line-up includes Dublin hot spots Pichet, San Lorenzo's, Saba, The Church, Fallon & Byrne, Zaragoza, Red Torch Ginger, Le Bon Crubeen and Flanagans to name but a few. What's not to love…quality festival promotions available from some the city's most loved eateries?
Corofin Trad Fest
Monday 29th February | Sunday 6th March
The Corofin Traditional Festival 2016 will take place from February 29th to March 6th…. plenty of pub sessions, craic, and music.
Five Lamps Arts Festival
Monday 29th February | Wednesday 16th March
The Five Lamps Arts Festival is a creative encounter at the heart of an inner-city community. It takes place every spring in Dublin, Ireland's capital city. The mission of the festival is to promote community development and social inclusion through the arts and to showcase the uniqueness of this geographic area to residents and to visitors. The geographic location of the Festival centres around the 'Five Lamps' – a decorated lamp post with five lanterns dating from around 1880. The Five Lamps stand on an island at the junction of Portland Row, North Strand Road, Seville Place, Amiens Street and Killarney Street in Dublin's north inner-city. Through the traditions and ambience of this historic location and community the Five Lamps Arts Festival celebrate all that is good about art, artists, performers and community. We are proud to include in our programme anyone with a story to tell and a venue willing to host them.
March
Belfast Nashville Songwriter Festival
Wednesday 2nd March | Sunday 6th March
Founded by arts organisation Panarts, the five-day festival (2nd-6th March) will showcase over one hundred performers, forty concerts and twelve interactive workshops, celebrating the art of song writing and featuring a wide variety of music styles.
Taking place between the Belfast Empire Music Hall and Clayton Hotel, 'BelNash 2016' will feature some of the very best in Northern Ireland talent including: Brian Houston, Iain Archer, Triona, James Huish, Ciara O'Neill, Best Boy Grip, Peter McVeigh, Brigid O'Neill, Colum Sands, Cup O' Joe, Simon Murphy, AER Club, Society Session, Belfast Guitar Society, twelve year old Ben Cutler, The Savage Five and John T Davis.
This year will also see the event film a television special, recorded with Music City Roots in Belfast and Nashville, Tennessee which will feature many of the festival artists performing their own songs alongside traditional music.
1848 Tricolour Celebration
Friday 4th March | Sunday 6th March
The 1848 Tricolour Celebration is a cultural and historical event, which commemorates the flying of the Irish National Flag for the first time by Waterford man Thomas Francis Meagher in his native city at the Wolf Tone Confederate Club at 33 The Mall, Waterford on March 7th 1848.
Doolin Writers Weekend
Friday 4th March | Sunday 6th March
The Doolin Writer's Weekend consists of workshops in novel writing, short story writing, poetry writing and song-writing. The weekend features an eclectic mix of music, food, poetry, theatre and literature.
Doolin has long been associated with the arts, providing inspiration for musicians, painters & writers. Many of the greats spent time in Doolin, including JM Synge, George Bernard Shaw, Dylan Thomas, Augustus John & Oliver St. Gogarty. Post-crash Ireland is on the cusp of a new literary boom and we look forward to welcoming a new wave of bold and original writers to Doolin.
Feis Ceol
Saturday 5th March | Friday 18th March
Set up in 1896, Feis Ceoil Association promotes excellence in the learning and performance of music across all ages, levels and disciplines. We run an annual festival before Easter each year in Dublin which comprises almost 200 competitions, attracting over 5,000 participants from all over the island of Ireland. We also run non-competitive events and concerts throughout the rest of the year.
Fresh Film Festival
Monday 7th March | Saturday 12th March
Founded in 1997 as part of the Limerick Film Festival as the Irish School's Video Competition, Fresh Film Festival was originally a schools video competition for secondary students. It has since grown into a year round organisation with a focus on national and international filmmakers spanning the primary and secondary age groups. 'Fresh' has incrementally grown in scope in response to increasing numbers of entries and 'Ireland's Young Filmmaker Awards" now constitute three sections – Junior (7-12 years) – Senior (12- 18 years) and The International Young Filmmaker Awards. Each section is open to individual filmmakers, schools, youth and community groups in these age categories.
Mountains to Sea DLR Book Festival
Wednesday 9th March | Sunday 13th March
Mountains to Sea dlr Book Festival 2016 will take place from March 9th to 13th 2016 with events for readers of all ages and interests. Headlining the festival will be Michael Parkinson in conversation with his son Michael. This will be preceded by a special event on 2nd February 2016 when the iconic author John Irving discuses his new book Avenue of Mysteries with John Boyne. Also confirmed are Donal Ryan, Pauline Bewick and Nuala O'Connor. Leading the family programme will be award-winning writer, Cathy Cassidy. Sarah Crossan, Patrick Ness and Louise O'Neill will join us to talk about their bestselling Young Adult books. Pulitzer Prize winner Paul Muldoon, Theo Dorgan and AE Stallings are just some of the poets that will feature in the Poetry Now segment.
The Silk Road Film Festival features films from countries which were once part of the historical network of ancient trade routes of the Silk Road. It focuses in particular on Asian, Arab, Persian, Middle Eastern, African and European cinema. Be taken on a journey along the roads that once connected the distant lands of East, South and Western Asia with the Mediterranean and European world … a journey that once ensured not only trade but cultural exchange and international understanding.
Aran Celtic Festival
Friday 11th March | Sunday 13th March
A three day celebration of Celtic music, dance and culture.
Renowned artists from Ireland and the Celtic Diaspora coming together for a unique fusion of our shared culture on the intimate setting of the Aran island of Inis Mor.
Wednesday 16th March | Saturday 19th March
Running for its fifth year – the Irish Beer and Whiskey Village is a true celebration of beer, cider, whiskey, artisan food and entertainment! This festival is totally indoors so you don't need to worry about the weather as you browse the stalls, enjoy a masterclass or two and soak up the festive atmosphere and live music.
Come and celebrate St Patrick's Week with us from the 16-19th March in the RDS, Dublin 4 at the Irish Beer and Whiskey Village.
Tradfest Kilkenny
Wednesday 16th March | Sunday 20th March
The 4th annual Kilkenny Tradfest returns to the marble city from 16th to 20th March 2016, with a jam-packed programme filled with free and ticketed events for all ages. The first round of acts announced include Damien Dempsey, Colm Mac Con Iomaire, Kila, Hothouse Flowers, Duke Special, The Gloaming's Iarla O' Lionard & Steve Cooney with many more to be announced.
The stellar music lineup kicks off on St Patrick's Day with Kíla who will bring their hip-shaking, smile-making, funky, groovy brand of trad to Kilkenny Tradfest for a free outdoor concert in the magical grounds of Kilkenny's Castle Park. The 6-piece have been celebrating the continued success of their recent album Suas Síos, the remarkable film Song of the Sea by Kilkenny's Cartoon Saloon which they co-wrote the score for and the most recent news that the music they wrote for the documentary about the Shannon Ireland's Secret River was nominated for an Emmy award.
St. Patrick's Day Festival
Thursday 17th March | Sunday 20th March
As the one national holiday that is celebrated in more countries around the world than any other, St. Patrick's Day is the day when everyone wants to be Irish. It sets out to reflect the talents and achievements of Irish people on many national and world stages, and it acts as an exciting showcase for the manifold skills of the people of Ireland, of every age and social background. To make our national holiday an unforgettable experience for all.
Cork St. Patrick's Day Festival
Thursday 17th March | Sunday 20th March
Join us for free family fun on the streets of Cork as the city bursts into life with this year's Cork St. Patrick's Festival from Thursday 17th March to Sunday 20th March 2016.
Dingle International Film Festival
Thursday 17th March | Sunday 20th March
Dingle International Film Festival is couched within the breathtaking town of Dingle on the beautiful Dingle Peninsula, southwest Ireland and is part of The Wild Atlantic Way. The festival takes places annually in mid-March and as such it often celebrates St Patrick's Day as part of its festival programming. Dingle is home to many film makers, one of Ireland's only independent cinemas, is a known film location (Ryan's Daughter, Far and Away) and a major tourist destination making it the perfect home for our festival.
Dingle IFF offers feature screenings from Ireland and around the globe, covering all genres; it is home to the Gregory Peck Award: For Excellence in the Art of Film, (recipients including Gabriel Byrne, Jim Sheridan, Jean Jacques Beineix, Stephen Frears and Laura Dern); it is the first Irish festival to embrace the field of Animation and in 2015 held Ireland's first ever Animation Awards ceremony in association with Animation Ireland; it is home to the Murakami Award for animation, (recipients including Jimmy T. Murakami, Richie Baneham and Tomm Moore); it has a full and inclusive Animation Programme of events as part of Animation Dingle; and, housed within this Gaeltacht area, Dingle IFF is proud to promote the Irish language and is the only festival offering an award for Irish Script writing with its Físín event.
Friday 18th March | Sunday 20th March
Linking in this year with the St Patrick's Day Festival, The Dublin Bay Prawn Festival will be held on Fri 18th Sat 19th and Sun 20th of March. Whatever way you like your prawns – barbecued, whole, shelled, fried, skewered, marinated, sauced – Howth's many award winning restaurants will serve your favourite prawn dishes in bite sized portions at the food village of this year's Dublin Bay Prawn Festival, in addition to a variety of other minature dishes. In addition to a market, local foods, fish filleting & fishery skills, demos and a programme of family fun, the food village will also include exciting cooking demonstrations for the budding cooks out there.
Galway Comedy Festival
Sunday 20th March | Saturday 26th March
Galway's comedy festival has grown since its beginning in 2005 to become a major event on the comedy circuit in Ireland, regularly attracting big international names to the city for the October Bank Holiday weekend. It's a non-competitive event, with several shows a night featuring well known comidians both Irish and international – there is always a decent number of 'faces from the telly' there.
The programme is rounded up each night at a late night festival club in the veranda lounge of the Radisson Blu Hotel, were madness and mayhem reign until the small hours.
You may also find pop up shows on the streets, unannounced events and who knows what other surprises.
Thursday 24th March | Monday 28th March
Join us from March 24th – 28th 2016 for five festive days of open-air markets, food trails and family fun. Last year, over 70,000 people attended Galway Food Festival events including the festival food village at Spanish Arch; the Galway, Moycullen and Woodquay Country Markets and a packed programme of talks, tours, tastings, demonstrations and workshops involving over 100 restaurants, food outlets and food producers located across the city and County.
Tramore Ska and Reggae Festival
Friday 25th March | Sunday 27th March
The three-day international Ska Festival is slated to kick off on Friday, March 25th, in the picturesque sunny south-east seaside village of Tramore in Co. Waterford. Renowned for its beautiful 5 km beach, amusement park and fairground. The town is eagerly awaiting the arrival of hordes of ska addicts and surfers to its shores over the Easter weekend.
Mallow's Racing Home for Easter Festival
Saturday 26th March | Monday 28th March
April
Friday 1st April | Saturday 30th May
Dublin: One City, One Book is an award-winning Dublin City Council initiative, led by Dublin City Public Libraries, which encourages everyone to read a book connected with the capital city during the month of April every year.
Friday 8th April | Sunday 10th April
Dublin Circus Festival will bring a full weekend of incredible indoor and outdoor shows along with a variety of publicly accessible circus workshops and training space. Taking place on 8th – 10th April it is open to all as no previous experience in circus is required to attend. The Dublin Circus Festival has something for everyone. Open to all members of the public, young and old alike, from workshops to shows you will undoubtedly be left inspired and amazed.
Saturday 16th April | Sunday 17th July
EVA International is Ireland's Biennial of Contemporary Art. Every two years EVA International works with guest curators to create a 12-week programme of exhibitions and events that engage with the people and city of Limerick, Ireland. Since its foundation in 1977, EVA International has worked with some of the world's leading artists and curators, bringing outstanding exhibitions to audiences on the west coast of Ireland. Artists' projects are selected through an international open and invited call for proposals and exhibitions take place in both gallery and non-gallery spaces.
Friday 22nd April | Monday 25th April
From 22-25 April, Kilfenora will stage its 8th annual music festival, a series commenced in 2009 with the 100th anniversary of the Kilfenora Céilí Band. As usual, it will feature great concerts, great céilís and great pub sessions.
Tuesday 26th April | Saturday 30th April
The Punchestown Irish National Hunt Festival (23rd – 27th April) is no ordinary day out at the races. Spanning five days, you get a combination of thrilling race action along with live entertainment, delicious food and drink, fun for the family, dazzling glamour or casual comfort.
A highlight of the Irish sporting calendar, each day is packed with treats for race fans and when you're fancy a break you can check out the live entertainment. The main stage is the key focus of the entertainment programme with excellent live music, children's entertainment, fashion shows, best dressed finals and expert betting panels. As you make your way around the racecourse and through the many restaurants and bars you will come across live street theatre with jugglers, stilt walkers and mime artists.
Wednesday 27th April | Sunday 1st May
Cork International Choral Festival is held annually over the four days preceding the first Monday in May in Cork's City Hall (capacity 1,000) – one of the most attractive and acoustically superb venues in Ireland. It is one of Europe's premier international choral festivals and is noted for its high competitive standards, excellent organisation, and the friendliness of its welcome. Each year some of the finest amateur international choirs are selected to compete for the prestigious Fleischmann International Trophy.
Overall the Festival attracts some 5000 participants. The festival continues to ensure that choral music, representative of many historical and cultural traditions, is brought to the people of Cork and the many visitors who travel to the city for the event.
Thursday 28th April | Monday 2nd May
Féile na Bealtaine Music & Arts Festival takes place every May Bank Holiday. Dingle, Co Kerry. 28th April – 2nd May 2016.
Friday 29th April | Sunday 1st May
A Festival of all things Father Ted. Daytime entertainment and craic for all the family, and night-time entertainment for adults only. What to Wear?: The Burren Hub will be selling Father Ted related items all weekend (check shop window for opening times), including nuns and priests outfits, character masks, t-shirts and other fantastic items….
Friday 29th April | Monday 2nd May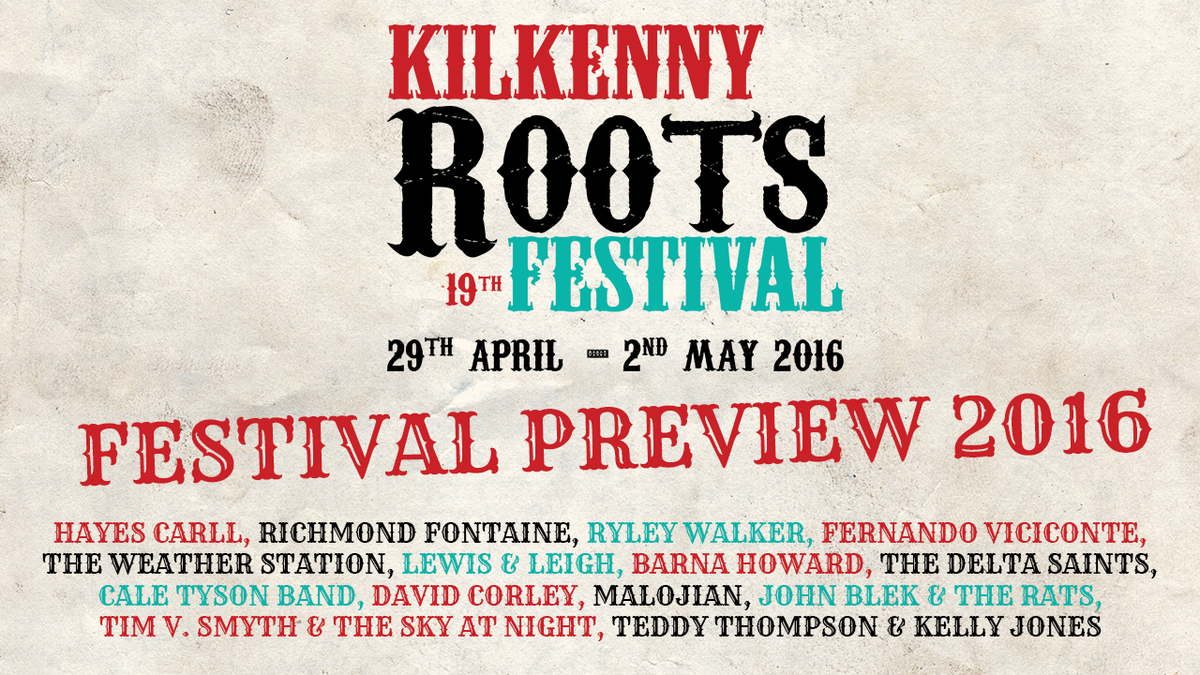 Since 1998 the festival has attracted some of the finest names in the Americana/Roots canon, including Calexico, Giant Sand, Ryan Adams, Alejandro Escovedo, Guy Clark, Chuck Prophet, Ray LaMontagne, Richmond Fontaine, Rodney Crowell, Phosphorescent, Sturgill Simpson and Alabama Shakes.
Audiences wind their way through the medieval streets sampling the huge range of music in the 30 plus venues, hosting over 40 Irish and international acts, with over 90 ticketed and free shows from early afternoon until late into the night.
For the last ten years Kilkenny has played host to many of the best roots-rock, alt-country and Americana acts at the magnificent Rhythm and Roots Festival…Irish Examiner
There's a mixture of old and new acts on the free pub gig trail and all styles are catered for, from swing to bluegrass, rockabilly to cajun, folk, blues and beyond…..
Friday 29th April | Sunday 1st May
The Connemara Mussel Festival offers a feast for the senses. Originally established to promote the excellence of the mussels from Killary Harbour, the festival has grown to become a celebration of local people, food, culture and heritage and is recognised as the premier food event for Connemara attracting visitors from near and far.
May
Monday 2nd May | Sunday 15th May
The International Dublin Gay Theatre Festival gives a platform to new voices in theatre, explores and challenges discrimination and celebrates the diversity of LGBT experience. We warmly welcome everyone to join us for great theatre!
The Dublin Gay Theatre Festival is an annual event, celebrating contribution of gay people to theatre, past and present. The Festival was founded in 2004 to mark the 150th anniversary of the birth of Oscar Wilde, in his native city. With an emphasis on new or recent international and Irish works with a broadly gay theme or relevance, the Festival has grown to become the largest event of its type in the world.
The Festival creates new opportunities for visibility and affirmation for existing and emerging gay artists and theatrical works. The Festival's criteria for inclusion into the programme are broadly interpreted to include works by gay writers, works that have a gay relevance or theme, or works that include either performance or another artistic contribution by gay people.
Participation and attendance is open to all who wish to witness and acknowledge the immense contribution of gay people to theatre in all its forms.
Monday 9th May | Saturday 14th May
James Connolly of course was one of the founders of the Irish trade union movement, so one of the main goals of the festival will be to highlight the ideas of Connolly and the importance of trade unions for workers, especially among our youth. The festival will also promote non sexist culture and politics and will embrace progressive Irish theatre and artists, which will allow for a comfortable space for debate, that promotes the exchange of ideas and cultures.
This festival is an extension of the 'James Connolly Memorial Weekend', where esteemed national and international guest speakers such asSister Teresa Forcades and James Petras have given the James Connolly Memorial lecture. This is followed by a wreath laying ceremony at Arbour Hill on the Sunday, to mark the occasion of Connolly's execution and to pay tribute to him and to the other leaders of the 1916 rising.
Thursday 12th May | Sunday 15th May
Galway Early Music celebrates its 21st birthday with an exciting international programme, exploring women as composers, musicians, patrons, and inspiration in medieval, renaissance and baroque European Music. Highlights include trobar and trobairitz songs of love, the musical life of musician, patron and powerful political woman, Margaret of Austria, the 'witches, bitches and britches' of the Baroque mezzo-soprano world, and a come-back concert by some of the founders of the festival, the Good Ladies of Galway. Festival-goers can get close to the music, instruments and performers in talks, workshops, exhibitions, instrument makers' showcases, and family events throughout the weekend. Join us for this gem of a festival in the lively medieval city of Galway on the Wild Atlantic Way.
Tuesday 17th May | Saturday 28th May
Dublin Dance Festival is the leading dance event on the Irish arts calendar. Each year in May, the Festival brings together dance artists and choreographers from across the world to share vibrant contemporary dance with audiences in Ireland.
Friday 20th May | Sunday 22nd May
The Kerrygold Ballymaloe Literary Festival of Food and Wine grew from a suggestion that was made by Geoffrey Dobbs, Founder of Galle Literary Festival… 'Isn't it about time Ballymaloe celebrated their literary tradition?' Myrtle Allen, who turned 90 in 2014, started writing recipes for the Farmers Journal in 1959, producing her first cookbook in 1977. 30 years later, her daughter-in-law, Darina took pen to paper and has since produced 18 cookery books. Following suit, Darina's daughter-in-law, Rachel began writing cook books in 2002 and has published 11 to date. The latest cookery writer to emerge from Ballymaloe is former Ballymaloe House Head Chef and co-founder of the Ballymaloe Cookery School, Rory O'Connell. So after three generations of cookery books being published, Geoffrey had a point. It was about time Ballymaloe created a festival that celebrated food and wine writing.
Friday 27th May | Sunday 29th May
Learn the Beer 101 from the best in the business with brewing demonstrations, tastings; meet the brewers, beer & food pairing classes and a whole lot more. And because craft isn't limited to beer there will be a tantalizing selection of home brewed whiskey, gin and cider to sample! If you are looking to expand your knowledge of brewing look forward to Beer master classes, interactive home brewing sessions with the Cork Homebrews or learn the ancient art of paring beer with cheese.
Friday 27th May | Sunday 29th May
The Wexford Food and Wine Festival is having its 8th Birthday, and following the huge success of the last seven festivals, the festival has established itself as a must attend premier food and drink event here in the South East. The Wexford Food and Wine Festival is organised by a voluntary committee of local people on a non profit making basis. We endeavour to have as many of the events free of charge as possible and some events do have a small cover charge purely to cover costs. Any profits generated are donated to charities and worthy local causes. This year we will have more Exhibitors than before and an ever expanding waiting list of those who would love to come on board. Closing dates for exhibition entries are the end of March.
Friday 27th May | Sunday 29th May
With so many festivals adopting a grab-all approach towards their line ups it's refreshing to see Life Festival sticking to a theme and curating a bill that offers some old favourites like Laurent Garnier, Leftfield, and Ben Klock, while giving lesser known talents a share of the light. Now in its eleventh year on the stately lakeside grounds of Belvedere House in Westmeath, the electronic music festival has found its niche as the go to outing for dance-heads.
The setting and layout of the stages gives proceedings a laid-back feel which is missing at larger festivals and also means the more ambient and experimental acts that have been flourishing in Ireland over the year such as Toby Kaar and Lumigraph can shine unperturbed by unce-unce-unce . Not a mainstream festival.
Saturday 28th May | Sunday 29th May
Slow Food Clare loves food and cares about how it was produced! We help connect local food related businesses with foodies living in or visiting Clare.
Saturday 28th May | Sunday 29th May
Ireland's feel good festival celebrating the very best live music in the heart of Dublin City since 2007. 'Experience the feeling'!
This unique music festival showcases the very best of live music in the beautiful surroundings of Merrion Square Park in the heart of Dublin City. Although the Soul Festival is free to attend, organisers ask for a minimum €5 donation for their children's charity, The Musical Youth Foundation, which helps at risk young people in Ireland access free music education.
June
Saturday 16th April | Sunday 17th July
EVA International (previously known as e v+ a, Exhibition of Visual Art) was founded by Limerick-based artists and academics in January 1977.Since 1977, 2,041 artists have participated in EVA International and it has frequently been the first major public exhibition for emerging Irish artists, who have subsequently gone on to become internationally recognized artists.
Friday 27th May | Monday 6th June
Conamara Bog Week is a celebration of all that is magical about the Conamara landscape. Based around the environs of the Quaker village of Letterfrack, the festival celebrates its 32nd year in 2016.
Saturday 28th May | Saturday 11th June
The Irish Aerial Dance Fest, now in its 7th year, offers two weeks of dance workshops and performances for anyone who has ever wanted to learn how to fly through the air, or for those who just want to come along and watch!
Wednesday 1st June | Friday 3rd June

youbloom is a growing community of musicians, fans and industry professionals facilitating their passion for music. youbloom is the global music village where you can learn, connect and play.
We believe in the possibility of everyone finding their voice and expressing it in a world where more and more artists are able to sustain themselves in what they love doing. With youbloom you can:
Learn the business of music
Connect with other artists, fans and industry
Play at events and gigs
Learn the business of music
Wednesday 1st June | Sunday 5th June
We are delighted to announce details of our 45th edition, which takes place between 1 – 5th June 2016. Award-winning Irish and international writers descending on our beautiful heritage town this year include Gerbrand Bakker, Joanne Harris, AC Grayling, Danielle McLaughlin, David Park, Lucy Caldwell, Louis De Berniéres, Anakana Schofield, Patrick De Witt, James Runcie and AL Kennedy. Also appearing are Pulitzer prize-winning poets Paul Muldoon and Gregory Pardlo, who will be travelling from New York to woo the Listowel audiences with their poetic vision. Other internationals attending are award-winning writers Jean Echenoz from France and Israel's Savyon Liebrecht.
Thursday 2nd June | Monday 6th June
Bloom in the Park is not only one of Ireland's biggest annual tourist attractions, it is also one of the leading horticulture and food festivals which takes place each year over the June Bank Holiday. Bloom, which is organised by Bord Bia, will celebrate it's 10th anniversary in 2016 and aims to promote the high standards found within the Irish food and horticultural sectors to both a national and international audience. There will be a whole host of exhibits on show including show gardens, sculptures, botanical art, craft displays as well as open farmyards available to the public.
Thursday 2nd June | Sunday 5th June
Rory Gallagher International Tribute Festival 2016 takes place in the town where the world's greatest Guitarist was born – Ballyshannon, County Donegal, Ireland between Thursday 2nd and Sunday 5th June 2016. It will be a special 4 day celebration remembering Rory Gallagher 21 years after his sad passing. Over 10,000 fans now attending the Festival annually in Ballyshannon from all over the world. The following acts already announced BUT many more acts to be announced very soon: Band of Friends The Blockheads Johnny Gallagher and Boxtie Laurence Jones Band Sinnerboy Pat McManus Band.
Thursday 2nd June | Monday 6th June
The Cat Laughs Comedy Festival held its inaugural edition in 1995 in response to the burgeoning wealth of Irish comic talent with no clear national outlet for expression. The festival has grown from a small event comprising a handful of shows to an internationally acclaimed festival which showcases the very best in Irish and international comedy acts, attracting visitors to Kilkenny city and its surrounding regions by combining world class entertainment with the atmospheric setting of our charming and intimate medieval city. The world-class programme blends the top Irish and international talent in shows featuring globally renowned comic stars as well as newcomers and break-through acts. The festival attracts in excess of 30,000 visitors to Kilkenny.
Friday 3rd June | Monday 6th June
A jam packed weekend of Swing, Dixie, Latin and Jazz, with a total of 25 performances from the best of bands from Europe, UK and Ireland, and a children's musical workshop.
The Doonbeg International Jazz Festival will be inviting old friends and new to come together and celebrate 17 years of Jazz in Doonbeg, and, once again, the June Weekend promises to be a great one for Jazz fans. With excellent bands from the Germany, USA, Scotland and all over Ireland, and a full programme of performances throughout the weekend, there will something for everyone to enjoy.
All events are free.
Friday 3rd June | Sunday 12th June
A 10-day long Carnival offering fun for all the family with many free events, a massive fireworks display, live music, food exhibition, street performers and events on the River Shannon.
Friday 3rd June | Sunday 5th June
Bloom Fringe is the younger and rather irreverent cousin of Bloom In the Phoenix Park. Bloom Fringe doesn't do de rigeuer garden displays, she does avant gardens instead. BloomFringe is an urban interventionist guerrilla sporting fatigues instead of tea dresses, planting where no one has dared to plant before. Bloom Fringe is the sort of Garden Festival that shuns the exurbs, preferring to play in the city streets instead. We'll camp at Dublin's neglected alleyways, turning them into lanes that are loved.
Friday 3rd June | Monday 6th June
K-Fest Music & The Arts aims to promote culture in all its forms and to nurture the growth of music and the arts to include galleries, live music, film, spoken word, children's workshops and to foster participation in the arts and artistic thought for all ages. We seek to present emerging and ground-breaking artists in a unique setting and to develop long-term relationships with the musicians and artists that participate. The K-Fest name is associated with cultural innovation, artistic exploration and excellence and for showcasing fun, eclectic and thought-provoking events while setting and maintaining high production standards across all its programmes.
Friday 3rd June | Monday 6th June
The picturesque town of Killarney is about to go from 0 to 60 as it revs up to celebrate Ireland BikeFest's 10th anniversary. This is Ireland's biggest motorcycle festival, it runs across the June bank holiday weekend from June 3 to 6, and word on the ground is that they are gearing up for their biggest and boldest festival yet. Ireland BikeFest is expected to roll out all the stops for their tenth anniversary, and organisers are hinting that they've all sorts of surprises up their sleeves. If you are unfamiliar with this annual gathering better add this festival to your Bike It List. With ten years experience under their kidney belts, the Ireland BikeFest guys really know what they're at. This festival has evolved into a well oiled machine attracting bike enthusiasts in their tens of thousands from all over the world. It is Ireland's only free open biker festival and the festival headquarters are located at The Gleneagle Hotel in Killarney.
Friday 3rd June | Saturday 4th June
We are re-inventing Vantastival this year with an intimate 2-day festival on a brand new site just outside Drogheda! Beaulieu House and its stunning grounds will become our new home on the June bank holiday weekend, Friday 3rd and Saturday 4th June.
Vantastival is a family-friendly festival which takes place over the June Bank Holiday Weekend. A host of live musical acts will perform over the weekend, while a focus on the campervan lifestyle brings an extra dimension to the only festival of its kind in Ireland. Other attractions include gourmet food stalls, festival traders, scheduled kids' activities, art, craft and many other quirky additions, ensuring that Vantastival has something for everyone, with or without a campervan!
Campervans are welcome to park on site at no extra charge, but you don't have to have a campervan to enjoy all that's on offer and there is a dedicated tent campsite for those without vans!
Friday 3rd June | Sunday 5th June
Dublin city centre's multi-stage music and arts festival, FORBIDDEN FRUIT, is set to return for its sixth instalment on the June Bank Holiday weekend, 3rd – 5th June 2016. A unique city centre festival that combines music, art, fashion, food and simple good vibes.
The spectacular grounds of Irish Museum of Modern Art will once again play host to the hotly anticipated three-day festival, which has become firmly fixed in the gig-goers calendar as the grand-opening to the festival season, and the official start of the summer.
Set across four stages (Original Stage, Undergrowth, Lighthouse, Someplace Else), offering a wide selection of different styles of music, to suit all tastes, you can expect the usual fruity cocktail of great cutting-edge sound, comedy, art, good food, and festival fun. And we'll see the return of the ever-popular Bulmer's Lounge.
Following the huge success of the inaugural Forbidden Fruit Night city take over last year, plans are in place for an even bigger offering of festival after-parties in official locations around the city running until 3am over the three nights of the festival and featuring some of Dublin's best collectives joined by international guests off the festival line up.
Saturday 4th June | Sunday 5th June
More than 200 competitors will shear 2,200 sheep across 19 different categories in two days of intense, international competition. A lot of spectators will flock to the venue and in addition to the sheep shearing competitions there will be a range of other attractions including nightly entertainment in a fully-licenced bar, children's activities, arts and crafts, artisan food, heritage features, sheep shows, sheep dog trials, trade stands, cookery demonstrations, and a food quarter.
Saturday 4th June | Sunday 5th June
Ennistymon Book Town Festival is an annual event which takes place over a weekend in the beautiful, vibrant town of Ennistymon in Co Clare, on the edge of the Burren. 2016's Festival will take place on the June Bank Holiday weekend – June 4th & 5th and will include an even more exciting & comprehensive programme of events, following the success of last year's festival (our biggest and most successful to date). 2015's festival attracted a domestic and international audience to Ennistymon, and created a hub of writers, readers and creators.
Saturday 4th June
Infinite Tai Chi, Chi Kung, Meditation and Yoga are wholesome practices that bring balance and harmony to your life. Discover this for yourself through workshops and demonstrations at this celebratory festival!
Saturday 4th June | Monday 6th June
Summertime revellers are in for a real treat this June bank holiday weekend (Sat 4th June– Mon 6th June 2016) at Dublin Port's "Riverfest", Ireland's premier riverside and sailing festival that promises fun for all the family, taking place along Dublin's historic North Wall Quay. A weekend of water themed fun features in this unique three-day festival of on and off-water attractions and entertainment. Water activities include the arrival of four majestic tall ships and four schooners open for public visit, wakeboarder demonstrations, tug boat "dances", river kayaking, free tours of the Jeanie Johnston Tall Ship and much, much more. Creating a carnival atmosphere on the quayside will be children's art and pirate demonstrations, street theatre, aerial acts and maritime demonstrations, food and craft markets and a family fun fair, all taking place from the Samuel Beckett Bridge to the East Link Bridge.
Saturday 4th June | Sunday 12th June
Taking place in the second largest natural harbour in the world, the Cork Harbour Festival is a celebration of Ireland's unique maritime culture and heritage. It attracts thousands of spectators and participants over the June Bank Holiday Weekend, connecting our city and coastal communities, our landlubbers and seafarers. Combining the Ocean to City Race and Cork Harbour Open Day, the festival features dozens of exciting events – both on and off the water.
Saturday 4th June | Sunday 5th June
Down With Jazz, the festival that reels back the decades to the anti-jazz movement of the '30's, is back for a fifth edition this June Bank Holiday weekend, presented by Dublin's Improvised Music Company. Who knows what class of devilment the capitol's citizens will get up if the sun comes out, with hip swivelling music and decadent improvising from the country's finest jazz musicians? Contemporary and inclusive, Down With Jazz is a big tent that welcomes musicians and music lovers of all persuasions, from funk and electronica, to chamber pop and free improv, with a line-up that reflects our diversity today.
The 19th Innishannon Steam & Vintage Rally will again be held at our 38 acre venue one mile from Innishannon Village. It will continue Innishannon's association with the steam and vintage rally, which has built up over the last 45 years. This event raises funds for the Irish Cancer Society.
Tuesday 7th June | Wednesday 13th July
Live at the Marquee is an annual music festival which takes place in Cork, Ireland during the summer, usually over multiple days in June and July. This year's acts include Little Mix, The Pixies, Foals and Tom Jones.
Friday 10th June | Sunday 12th June
A weekend of outdoor fun and adventures on five of Ireland's Wild Atlantic Way islands for families, singles and couples! Walks, talks, demonstrations, ceili, craic agus ceoil – and all events are free!
Friday 10th June | Sunday 12th June
The Howth Literary & Arts Festival will take place in the beautiful environs of Howth Castle from June 10th to 12th, 2016. This year we broaden our literary and artistic programme to include drama, cultural history and visual arts events. Our inspiration is drawn from the megalithic Howth Cromlech, known locally as 'Aideen's Grave', dating from 2,500 BCE, which is in the grounds of Howth Castle. Samuel Ferguson's poem The Cromlech on Howth forms a literary, visual and historical constellation around the ancient grave, and features illuminations from the Book of Kells and of Durrow, and drawings from Howth native Margaret Stokes (1861).
Friday 10th June | Sunday 19th June
Championing arts and culture across one of Ireland's least known and most beautiful counties, offering a vibrant and dynamic programme of visual art, street carnival, literature and performance over 10 days.
Carlow is home to the first big cultural event of Summer 2016 – the 37th Carlow Arts Festival. This year we're more than a festival – we're three festivals in one, celebrating all the very best of cultural Carlow. Get inspired at the Borris Festival of Writing and Ideas. This year's outing brings world famous authors, artists and thinkers to Borris for an inspiring weekend (June 10-12) of thought provoking conversation and ideas. Then sail up-river with Barges on the Barrow (June 14-16) our floating mini-festival that will deliver a cargo of music and fun events at Carlow's riverside towns from June 14-16. Finally, we're delighted to announce a brand new arrival – The Big Weekender!
Friday 10th June | Sunday 12th June
Borris Village, at the foot of the Blackstairs Mountains, plays host for the fifth year to one of the most unusual and intimate festivals in the country.Festival of Writing & Ideas promises a weekend of stimulating dialogue and discourse, gathering together intriguing minds from all over the world and inviting them to spend a few days in the rural hinterland of Co. Carlow. Many are writers, but artists, film-makers, political commentators, musicians, architects – and regular people who have experienced the extraordinary – also grace the stage of Borris.
Festival of Writing & Ideas will mark its fifth year in 2016. The line-up includes Martin Amis, Chrissie Hynde, Kate Tempest, Michael Chabon, Joseph O'Neill, Kate Summerscale, Bruce Robinson, Simon Callow, John Banville, Don McCullin, Viv Albertine, Mariella Frostrup, Rory Stewart, Sara Baume, Loyd Grossman, Deborah Levy, & many more.
Friday 10th June | Sunday 12th June
Following on from the success of 2015, Doolin Folk Festival will take place over 3 days, June 10th-12th 2016, in a marquee on the lawn of Hotel Doolin. Doolin is famed the world over for its traditional Irish music and the idea of the festival is to bring back to Doolin any traditional & folk musicians who have had a connection with the area over the years. The 2015 festival featured some of the biggest names in the Irish music scene including Mick Flanney, Declan O'Rourke and Sharon Shannon. Line up will be announced early 2016.
Saturday 11th June | Thursday 16th June
Bloomsday is a celebration that takes place both in Dublin and around the world. It celebrates Thursday 16 June 1904, which is the day depicted in James Joyce's novel Ulysses. The day is named after Leopold Bloom, the central character in Ulysses. The novel follows the life and thoughts of Leopold Bloom and a host of other characters – real and fictional – from 8am on 16 June 1904 through to the early hours of the following morning.
Celebrations often include dressing up like characters from the book and in clothes that would have been the style of the era. One of the hallmark fancy dress items of Bloomsday is the straw boater hat. Celebrations come in many different forms like readings, performances and visiting the places and establishments that are referenced in the book. The Bloomsday Breakfast is another common celebration, which involves eating the same breakfast as Leopold Bloom consumes on the morning of 16 June.
Saturday 11th June | Sunday 12th June
A raft of new Irish acts join New York hip hop legends The Sugarhill Gang for this year's BARE in the Woods Festival, taking place at Garryhinch Woods, Co Laois, on June 11-12 this summer. Located on a for-purpose festival site – which features specially built permanent stages, a Lake Arena and a full size Irish Crannog – BARE in the Woods 2016 is delighted to announce, Raglans, Jupe, Fangclub, Mongrel State, Made by Pete, CPNHGN, Megacone, Laurie Shaw, Damsel, Whiskey Dick, Gemma Bradley, Peter Njihia. BARE in the Woods will also welcome Tony Clayton Lea's Culture Vultures to the festival for the first time, along with a soon-to-be-announced Comedy and Spoken Word line-up. BARE16 will also feature a Food Village, Dance Island and Kids Area. Already announced for the growing boutique festival are Natty Wailer, The Pale, King Kong Company, August Wells, Fox Jaw, Dah Jevu, Pretty Beast, Slow Motion Heroes, Everything Shook, My Tribe Your Tribe, Suan and Cua. With a mission statement to "to create on of the best boutique festival sites in Europe and bring an event that has something different to offer the festival season in Ireland", the BARE festival site compliments its natural surroundings using timber sourced from the site itself to build some very creative stages and structures. It is also one of the best priced festivals in Ireland with camping tickets for the 24-hour event priced at only €40 for a Day Ticket and €50 with camping.
Sunday 12th June
Westport House are delighted to announce the return of the Hooley At The House at Westport House, County Mayo on Sunday June 12th, 2016.
After a hugely-successful event last year the decision to bring the Hooley back to Westport was a no-brainer! With an ideal location, the cream of Irish music talent, amazing amenities for the children and a fantastic ticket price "Hooley at the House' promises to be the best family day out in the West of Ireland this summer.
Sunday 12th June
Fun, fresh air and frolics abound! The third annual Dublin Kite Festival took place on Sunday 14th June 2015 at North Bull Island, Clontarf. With free entertainment all day long, it was the perfect way to spend a summer Sunday with family and friends.
Thursday 16th June | Sunday 19th June
Festival aiming to revive the tradition of Uilleann piping in the area – a 'must' for all piping and traditional music enthusiasts!
Here was a legacy of piping in West Cork, a legacy that, over the years has featured extraordinary musicians such as the blind fiddler, Tom Kennedy who shared his extensive collection of tunes with West Cork's much-loved Canon James Goodman. Canon Goodman was born in Ventry County Kerry in 1828 and was an outstanding Uilleann piper. He spent his life as a minister in different parishes in West Cork and he ensured that hundreds of tunes including those which Tom knew were preserved for posterity. He collected over 2,000 melodies, now safely ensconced in the library of Trinity College under the title of "The Tunes of the Munster Pipers." Today his statue can be seen at the gate to Abbeystrewry parish church in Skibbereen.
Jim Dowling worked to revive that tradition of piping in West cork and was a founder member of the Glengarriff Branch of Comhaltas Ceoltoiri Éireann. He died in November 2008 and this festival is a commemoration of his significant contribution to Uilleann piping and traditional music.
Thursday 16th June | Sunday 19th June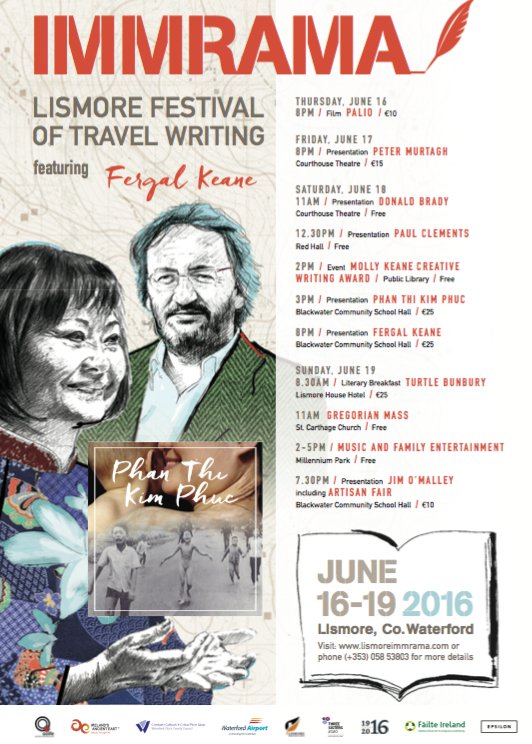 Immrama – The Lismore Festival of Travel Writing takes place in June each year and is the only one of its kind in the world. Focusing on travel writing and literature, a different theme is explored annually.
Thursday 16th June | Sunday 19th June
Taste of Dublin is a stunning celebration of Dublin's unique and progressive dining scene. Over four indulgent days the city's latest, greatest and hottest restaurants will each fashion together exquisite signature dishes, allowing you to create your dream tasting menu at the ultimate foodie festival.
Choose dishes from the hottest restaurants and mingle with award-winning chefs and like-minded foodies as you browse through hand-picked premium food and drink producers, take part in one of the many interactive foodie features and attractions or simply relax and enjoy live entertainment in the stunning surrounds of the Iveagh Gardens.
Friday 17th June | Sunday 26th June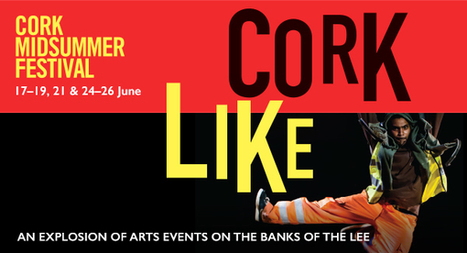 Cork's largest arts festival takes place in venues and unusual locations across the city and county. A summer explosion of exciting arts events on the banks of the Lee. No events 20th, 22nd and 23rd. Cork Midsummer Festival is an annual multi-disciplinary arts festival that uses the city as its backdrop and inspiration. It provides high-quality arts events, both national and international, for audiences of all ages. Its programme provides opportunities for significant public participation and engagement, supports the development of emerging artists across all art forms, and provides a unique platform for work by local and national artists.
Friday 17th June | Sunday 19th June
Connemara Green Festival 17-19 June 2016 The Connemara Green Festival is an exciting new festival in its 2nd year which celebrates Mother Nature, aims to raise awareness of the unique ecology of Connemara and raise funds for biodiversity projects. Our theme this year is 'Ecology, Food and Landscape'. The festival takes place from Friday 17 June to Sunday 19 June and is based in Letterfrack village, Connemara, at the foot of the majestic Connemara National Park on the Wild Atlantic Way.
Friday 17th June | Sunday 19th June
A weekend of events remembering in an entertaining and informative way one of the most sensational events in Baltimore's colourful past and one which made the village a focus of international attention – the attack by Barbary corsairs known as 'the Sack of Baltimore'. However, the Algerians were by no means the only pirates operating in the waters around Baltimore. The bays and inlets of Roaring Water Bay were the principal European base for pirates of many different nationalities who plied their trade right across the Atlantic to the Caribbean.
Friday 17th June | Sunday 19th June
An arts & music festival where like-minded people come together for three days to explore and discover new music. Body&Soul is more than a lineup, lose yourself in thriving kaleidoscope of intrigue, adventure and otherworldly excess. In a nocturnal playground for the starry eyed, discover hand-picked selections of awe-inspiring installations; quirky little music-filled cafes; raging parties in hidden sitting rooms; gastronomic delights; late-night party corners; bubbling hot tubs for mates and dates under a canopy of stars and a specially designed holistic area offering yoga, massage and moments of blissful zen.
Wednesday 22nd June | Sunday 26th June
Family friendly festival with County Wexford strawberries, the Wexford Literary Festival, the Strawberry Roots Music Trail and the All-Ireland Farmers Market Food competition – all hosted by the 48th Strawberry Queen!
Wednesday 22nd June | Sunday 26th June
Five days in Dublin City packed with celebrations, spectacles and extravaganzas promoting and celebrating LGBTQ diversity. The highlight of our festival will be our annual Pride Parade and our post parade celebrations in Merrion Square on Saturday June 25th. Over the coming weeks we will be announcing details of official Dublin LGBTQ Pride events.
Thursday 23rd June | Saturday 25th June
If you love coffee, this is an opportunity to get in on the action with Ireland's burgeoning coffee culture.
Thursday 23rd June | Sunday 26th June
Hay Festival Kells welcomes Hanif Kureishi, Patrick McCabe, Kevin Barry, Rhianna Pratchett, Eamon Gilmore, Ronan Fanning and many more to County Meath this summer. Now in its fourth year, Hay Festival Kells returns with an even bigger and more ambitious programme this summer. Situated in the heart of Ireland's Ancient East, Kells is a traditional market town in County Meath and the spiritual home of the Book of Kells®, which was completed there in the ninth century.
Friday 24th June | Sunday 26th June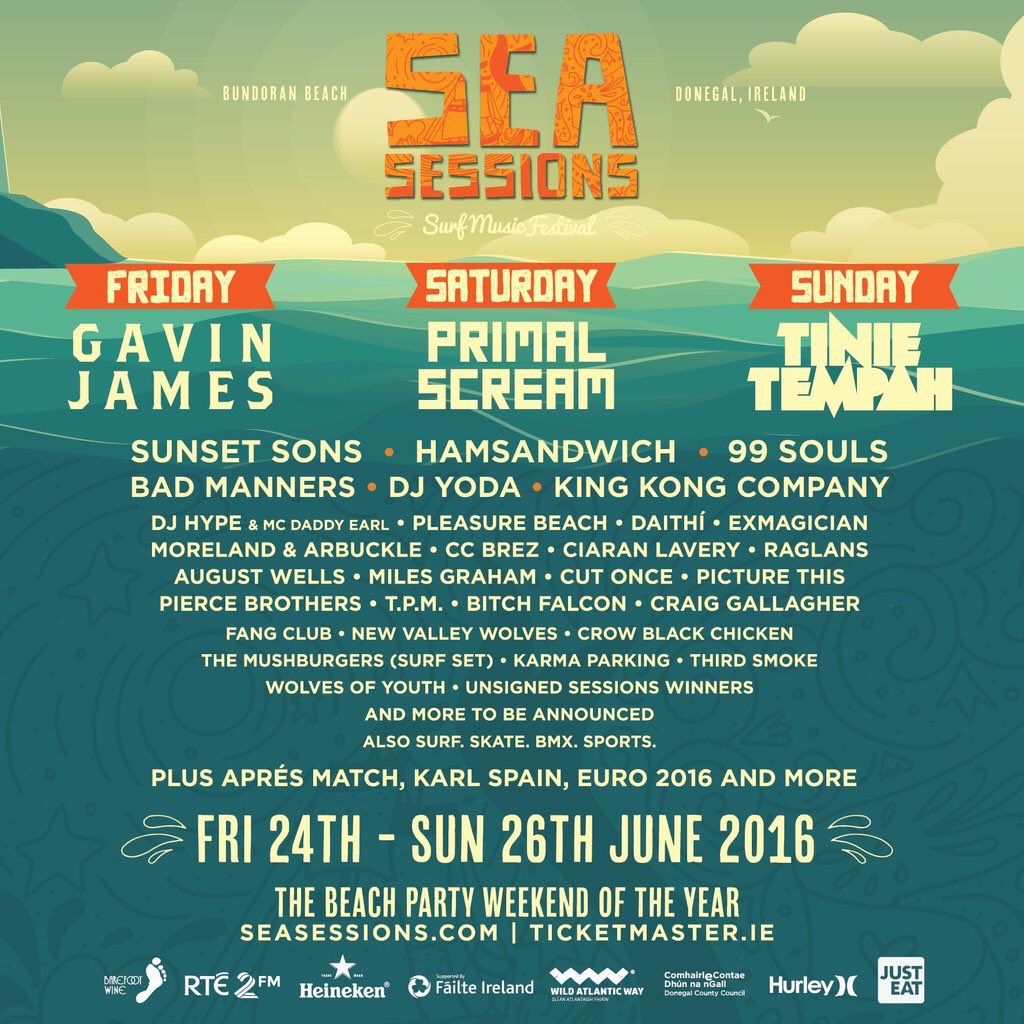 Situated right on beach in Bundoran, the capital of Irish Surfing – it is the only event in the country bringing together the unique lifestyle aspects of surfing, music, skating, BMX, beach sports and more, into a three day camping festival. Line-up this year includes Gavin James, Primal Scream and Tinie Tempah.
Friday 24th June | Sunday 26th June
INTERLUDE, Dublin's new city festival in the stunning surrounds of the RHA Gallery, are excited to announce the new additions to their summer line up: Wyvern Lingo, Kenny Dope, Grandmaster Flash, Fish Go Deep, Daithí, Arveene, Ye Vagabonds, Shovell (Live percussion), Adultrock, Bad Bones, Clu plus curated stages from The Paul McLoone Stage, Radioshack and Nialler9 presents will join Lisa Hannigan in her only festival show for 2016, Dimitri from Paris, Crazy P Sound System, Donal Dineen (AV Set), David Kitt (DJ Set), Booka Brass Band, Alison Limerick (Live PA), Billy Scurry, Bon Voyage, exmagician, Interskalactic, CC Brez, Ships, Sample Answer, TooFools, Kelly-Anne Byrne, Buffalo Woman, Cian O'Ciobhain, Sally Cinnamon, The Disconauts with many more to be announced.
Friday 24th June | Sunday 26th June
Moving forward to June from its usual September berth, the hugely popular festival will feature foodie tours, mushroom foraging and children's pizza-making classes. As before, a food village showcasing the best of local artisanal produce will take place at the Octagon – Westport's picturesque market square.
The 2016 Westport Food Festival will include an action-packed itinerary, with something for everyone even including the little ones. Several other events are scheduled for the three day festival including the Food Village & Fringe Festival taking place on June the 25th at the Octagon, Food Fest Forum, Foody Tours, Bike Buffet, Kids' Pizza-Making, and Mushroom Foraging. Other events over the weekend include live demonstrations from a host of top chefs, bakers and mixologists as well as the exciting Sunday night event called Secret Supper which proved to be hugely popular in 2014! Book your tickets early as this event was sold out last year!
Saturday 25th June | Sunday 26th June
The Flavours of Fingal County Show is a two day event jam packed with events, combining the sights and sounds of an agricultural show with an unforgettable food and family fun experience all taking place within the historic walled garden of Newbridge House and Farm, Newbridge Demense, Donabate, County Dublin.
Sunday 26th June | Saturday 2nd July
For a list of Artists playing please follow the link above.
Thursday 30th June | Sunday 3rd July
The Féile celebrates the life and legacy of Brian Ború (founder of the O'Briens) – the most famous son of the historic twin towns of Killaloe and Ballina. Through our annual festival, the Féile Brian Ború committee aim to celebrate Ireland's Greatest High King and keep alive the name of the Great Brian Ború in his native place, Killaloe/Ballina, from where he ruled this country! Killaloe and Ballina may never again regain their status as Ireland's capital, but they will certainly prove the place to be, or to visit in the future. We hope you will join us in the beautiful twin-towns of Killaloe & Ballina.
July
Friday 1st July | Sunday 3rd July
A boutique festival, now in its eighth year, held in the beautiful village of Dunmore East. A celebration of food, music and the arts.
Friday 1st July | Sunday 3rd July
Now in its third year, the independent run and the award-winning 'Promenade Festival' in Tramore, Co Waterford is a family outing you won't want to miss. Capturing the true essence of times past and classic seaside fun experience, the Promenade Festival has grown into the biggest seaside family festival in Ireland. It continues to go from strength to strength, with organisers anticipating crowds well into the tens of thousands again this coming July. Last year's festival featured a spectacular Air Show over Tramore Bay, as well as street theatre, magic shows, live music, an artisan food and craft village and much more. The festival celebrates the work of the Emergency Services, who will again showcase their skills with exciting public demonstrations over the three days. We have redesigned the festival site this year and added some special family treats that won't be revealed until festival-goers arrive.
Friday 1st July | Sunday 31st July
PhotoIreland's international festival is focused around photography and image culture. Explore work of esteemed photographers, as well as that of young and local initiatives in Ireland, presented to you in a vibrant and friendly atmosphere.
Friday 1st July | Sunday 3rd July
DAYTRIPPER is a 3 day music festival for Waterford, taking place at the Regional Sports Centre (RSC), Cork Road, Waterford on Friday 1st, Saturday 2nd and Sunday 3rd July. DAYTRIPPER (as the name suggests) also welcomes music fans from the South East and beyond into Waterford for 3 days of top quality entertainment, with music for all tastes.
Friday 1st July | Tuesday 5th July
A weekend of Irish American Celebration with Events in New Ross, Co Wexford, Ireland from Friday 1st July to Monday 4th July.
Friday 1st July | Sunday 3rd July
Traidphicnic, back for its fifth year, is a wonderful festival, celebrating the vibrant local culture and traditions in the Gaeltacht village of An Spidéal.
Friday 1st July | Sunday 3rd July
They say the best things come in small packages, well, if you come to Castlepalooza you'll see just how true that is! We'd like to welcome you to the wooded wonderland that is Charleville Castle where we promise you great music; merriment; magic; madness and mind-blowing memories.
Charleville Castle in Tullamore is much more than just another festival venue. This 17th century castle is hidden away in Ireland's oldest primordial oak woods. Its beautiful location is made all that more attractive given that it is located right in the middle of Ireland – so easily accessible from all major cities.
Castlepalooza offers a unique opportunity to set foot inside a beautiful Medieval castle, walk through its restored rooms and dance the night away in the mystery of Castlepalooza.